Dream Seekers
Silverymoon
Elven City of Renown: Population 40,000
The anchor of the Silver Marches, Silverymoon is truly "the Gem of the North." Silverymoon is that rarest of things, a bustling city dominated by trees and beautiful stone buildings. Old oaks, shadowtops, and duskwoods compete with tall, thin spires to touch the sky, and blueleaf trees shade flagstone sidewalks along most of the cobbled streets. The prevailing style of stonework is flowing curves, as if buildings grew rather than being erected block by block. Many older buildings are clad in a thin layer of fused royal blue or emerald-green grass. Balconies and curving stairs are everywhere – and windowsills, railings, and newel-posts are all adorned with herbs and flowers growing in sculpted bowls. Most dwellings have grass paths leading to sheltered bowers. Many folk take time every day to lift their harps, pipes, or voices to make music, and things of beauty are more than prized and admired – such design is expected. Aerial steeds carry riders across the skies.
Many places preserve lore, but in Silverymoon knowledge is highly valued. Most fold find satisfaction in being well informed in at least one area of expertise. The citizens of Silverymoon, also called Silvaeren , love witty sayings, sharing jokes, lore, music, and reading of ballads, poems, and romantic fiction; most attend revels or private dances and feasts thrice per ten-day.
The older part of the city on the north bank of the River Rauvin is linked to the newer environs on the south bank by the famous Moonbridge (23), a magical construct of silvery force whose central span can be deactivated to protect the city from invasion, or to allow tall-masted ships to pass. It impresses the eye more than the many soaring spires of the city, slender and graceful towers unmatched elsewhere in Faerûn.
Unquestionably the foremost center of learning and culture in the North, Silverymoon is a happy place where fold of many races dwell in peace together. Much of this feeling of safety and goodwill is due to the influence of the powerful local mages, and the disbanded Harpers. Both forces were joined in the person of the lady who shaped modern Silverymoon, the kindly, diplomatic mage Alustriel , known to Silvaeren as Lady Hope. While she was alive she encouraged many feasts and revels; preferring to keep her people happy and hopeful through enlightened rule. In 1369 DR, she appointed Taern Hornblade to the office of High Mage and turned her efforts to creating the confederation known as the Silver Marches.
High Lady Alustriels' line carries on in the form of her son, Methrammar Aerasumé, who is High Lord of Luruar and dwells in Silverymoon. The Gem of the North still attracts travelers, adventurers, and scholars with its university, library, temples, and promise of opportunity. Silverymoon welcomes many races, but elves, half-elves, and humans comprise most of its population.
History DC 15 : Before she passed away, High Lady Alustriel founded a mutual defense league in the region. Her son, Methrammar came to head a more diminished league. The dwarves of Adbar, Mithral Hall, and Belbarr parted ways with the others, unwilling to compromise their own defenses by shoring up the smaller settlements in the area. The dwarves remain potentially powerful allies of Luruar but are not always reliable.
Streetwise DC 20 : Methrammar has reached an advanced age, and choosing the next High Lord of Luruar is the talk of the league. Each member city has its own distinct government and traditions. Some think the High Lordship should remain a meritocratic position. Others maintain that the post should rotate through the member cities, or even be done away with. Methrammar's wife, the elf Gaerradh, has been put forward as a possible successor, but some folks think that would go too far in establishing the High Lordship as a dynasty.
The lush beauty of the city and its many forest districts makes it quite easy for visitors to become lost. Thankful, Silvaeren don't mind furnishing directions and every cistern cover in the cobbles of an intersection has an arrow graven into it, denoting North.
The city's army, the Knights in Silver, circulates constantly and lends detachments to the Luruar confederacy for patrols between the three main cities. Silverymoon's famed magical wards of protection faltered during the Spellplague and have not yet regained their original strength. On rare occasions, though, a particular ward flares into life for unknown reasons, altering just-completed rituals in sometimes bizarre ways.
The Faerûn spanning organization known as the Harpers disbanded nearly a century ago. However, in the city of Everlund is Moongleam Tower, a Harper hold of old. When Netheril returned, a remnant of the old organization re-formed. Under the leadership of Eaerlraun Shadowlyn, the small organization is dedicated to one purpose, opposing the growing power of the Shadovar. When Eaerlraun was later assassinated by Shadovar assassins for his effrontery, the old, oft-ignored rule of keeping one's Harper membership secret gained new meaning and purpose.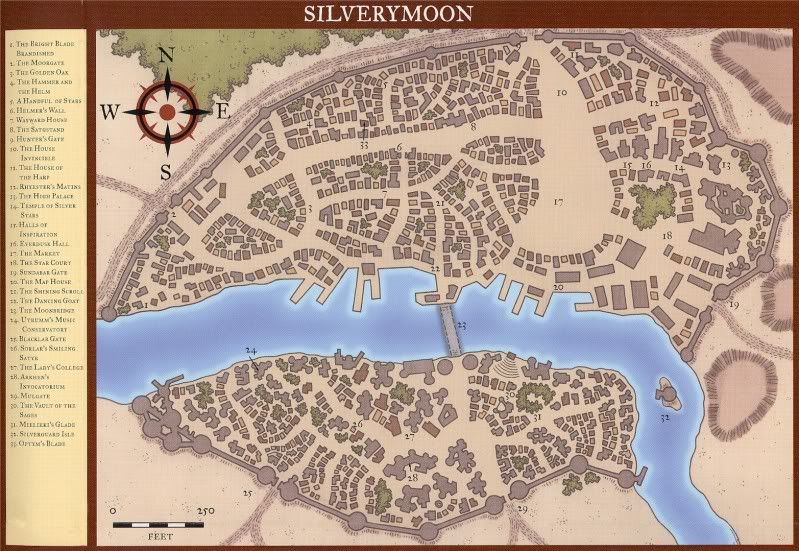 NOTED TAVERNS
1) The Bright Blade Brandished : Located in Northbank, on Sunset Lane in the westernmost angle of the Wallrun. All are welcome at this friendly alehouse, which consists of two floors of rustic charm, with curtained booths. Wizards down on their luck can earn 1 sp per _Mage Hand _spell cast to whisk tankards overhead to waiting hands.
4) The Hammer and the Helm : Found on Highaxe Lane in Northbank, this cheerful barn of dwarf revelry also welcomes trusted sword-companions. Roast fowl wings provide missiles when jests go bad, amid oceans of stout, Strongbeard cider.
6) Helmer's Wall : In Northbank, bridging Bowshot Ride at its meeting with the Old Wall, stands this former city gatehouse built of massive beams and rough stone walls. Helmer's Wall boasts a superb wine cellar. It is quite popular with students of the various colleges, both scholarly and magical, who haunt these bare boards, alight with hops and dreams and pompous high-minded speeches. Such activity often makes for an entertaining evening, although the worst speakers are often pelted from their perches.
8) The Stagstand: Located in Northbank, on the north side of the Old Wall nine doors west of the Market, the Stagstand features antlers everywhere and bright battle banners lit by lanterns. This place is a dining house and dance hall rather than a simple taphouse. The stagstand serves venison, strange-tasting eel pie, crusty cheese baked river crab, and assortment of spiced breads, hearty darksmoke rothé sausage, and the famous nut cheese of Silverymoon. Late in the evening the large, empty dance floor often comes alive with revelry.
22) The Son of the Goat: Located north of the Moonbridge, the Son of the Goat Tavern is built where its forerunner, the Dancing Goat, stood before a fire consumed it. The Son of the Goat is every bit as renowned for its raucous revelry at all hours as its predecessor. Dancing, flirting, and singing are never-ending pastimes, all fueled by a cellar boasting hundreds of vintages. Pickpockets and other professionals are drawn to the tumult.
26) Sorlar's Smiling Satyr: Located in Southbank, on Auchtareen Lane, this relatively new, bright maze of stained glass window booths, curtains, and old stairs makes difficult navigation for the tipsy. The establishment caters to females and dignified or timid males escorting them. The proprietor is a sorcerer of some skill who brooks no brawling.
MAJOR INNS
3) The Golden Oak: Located in Northbank on Dancer's Mask Lane, northeast off Rallowglass Ride, the Golden Oak features cozy, rustic rooms, dim flagstone passages, fragrant herbs, and windowbox ferns, reminding guests of sleeping outdoors in a safe, pleasant corner of the woods. Meeting rooms are available for rent upstairs, while a friendly cellar taproom boasts entertaining gossip downstairs. All the rooms in this inn open off a central atrium dominated by a huge oak that rises up to the open sky, lanterns descending from its branches to hang above tables. This inn is favored by druids, rangers, elves, and those who like privacy or peace and quiet. The prices are stiff (5 GP food and drink not included), but guests can expect superb personal chamber service.
7) Wayward House: Found in the northwest corner of the meeting of Bowshot Ride and the Ghostwalk, this inn was built on the former site of the Inn of the Wayward Sages, a local landmark. That building was destroyed by a fire and subsequently replaced by the Wayward House, an inn less shabby and less seedy than its predecessor. It's the new popular place to stay for visitors not concerned with trumpeting their wealth or importance. Chamberlains Havorr Merendil and Jhalessa Shorncrown are quick to recommend local craftfolk, tutors, and repairers.
OTHER LOCATIONS OF INTEREST
Gates: 2) Moorgate in NW, 9) Hunter's Gate in N, 19) Sundabar Gate in SE, 25) Blacklar Gate in SW, and 29) Mulgate in S
5) A Handful of Stars: Located in Northbank, on Shadowstars Lane, this shop is staffed by Selûnite clergy and followers. Dimly lit and crammed, it is dominated by a glowing star chart on the ceiling. This shop sells navigational aids of all kinds, from Sembian astrolabes to timed-burning candles, fathom lines, surveying chains, maps, nautical charts, sunrods, wands of light, and lanterns of all sorts. Maps cost 40 gp each and are drawn on good vellum. Prospectors, explorers, dreamers, and adventurers can always be found here, trading gossip and travel tales with the staff.
10) House Invincible: This temple consists of a stark, non-nonsense keep built for battle, home to the enthusiastic worshipers of Tempus. The Foehammer's worship is very popular in the Silver Marches, most notably among the Knights in Silver, the High Guard, and the Spellguard.
11) House of the Harp: Once known as the famed Focluchan bardic college, the school stood empty for over a century before the Spellplague. The Master Bard reopened it and has spent the last century rebuilding the college. This bardic college is held in high-esteem but the current name stuck and has never been changed. The college invites musicians, orators, minstrels and bards to study within its hallowed halls to learn and then teach others.
12) Rhyester's Matins: Named for the blind prophet who founded it in 717 DR, this temple to Amaunter features an altar lit by rainbows every dawn, when the sun's rays lance through the stained-glass windows in the eastern face of the temple.
13) The High Palace: A soaring spired castle of thick stone clad in white marble, lies near the heart of the city and draws the eye of all who pass nearby. The merlons of its crenellated battlements are carved in the likeness of unicorn's heads. Inside, the palace features lofty ceilings, gleaming marble floors, hanging plants, tapestries, and white relief-carved walls showing scenes of flowers, vines, ferns, and trees. The ever-vigilant High Guard, an elite group of 90 palace guards in distinctive silvered armor, and the arcane might of the Spellguard protect the High Palace. The Palace also features four tall towers – the two north towers house the armory and barracks of the High Guard, with holding cells beneath. The southernmost, Bright Lady Tower, was formerly Alustriel's personal residence and now belongs to the High Mage. The central tower, Moonshield, houses the Chambers of State on its lower floors and residences for high officials of the Palace in the upper stories.
Visitors enter Moonshield through the Unicorn Gate in its west wall and ascent the Silver Stair to the Hall of Greeting, where the steward and his staff greet them and guide them on. A mighty door leads east into the lofty Great Hall. Audience chambers, a banquet hall, and rooms devoted to the Council of the Marches surround the Great Hall. Two grand arches at its prow-shaped eastern and lead to the Silver Throne.
Beneath the ground floor rooms of the palace are 12 underground levels. The upper 4 contain larders, a superb wine cellar, prison cells, an armory, and Elénaril's library. The 5th level holds a vast collection of items that may one day be useful, from keelboats to spire tops to long ladders, battering rams, and miles of cable. The 6th level is the Crypt of the High Mages, where the ruling wizards of old Silverymoon lie entombed. Entrance to both areas is possible only for those carrying special keyed Lauthaul Tokens personally prepared by the High Mage. The lowest 6 levels comprise the High Mage's Vault, a vast store of fabulous treasure, magic items, and artifacts. Only those carrying Thelbane Tokens can enter the vault, and even then all other bearers of Thelbane Tokens are alerted to the visit through an effect similar to the Alarm spell. Any attempt to force entry into the vault alerts all bearers and activates magical defenses of an extraordinarily thorough nature.
14) Temple of Silver Stars: A beautiful structure of curving stone inset with many crystal-and-silver star windows, this temple to Selûne is shaped like a single-spired tiara, its spire to the north and its roofline forming a crescent moon when seen from the streets around. Its clergy have been directed by High Moonmistress Shalyssa Lurialar (Female Half-elf Cleric 13).
15) The Halls of Inspiration: A magnificent, rectangular four-towered temple devoted to Oghma and Milil, its spires hold libraries, study rooms, and prayer chambers, with silver temple bells above and guest apartments for visiting bards and worshipers beneath. An open chapel with three levels of balconies join the towers. Here visitors can hear some of the most magnificent music and lore-tales anywhere in the North. Songmaster Beldor Thrivvin (Male human Cleric 14) jointly presides with Lorelord Ormast Keldellyn (male human Cleric 12) over a clergy dominated by skilled bards and loremasters.
16) Everdusk Hall: An elven temple, its upper floors contain rooms of genealogy, poetry, records, and philosophy of the elves, this hall is administered by the Loremaster Vadalathra Rivermantle (female elf Wizard 7).
17) The Market: A large, open area well-shaded and decorated by trees and plantings, the Market has some permanent and semi-permanent stalls for vendors, but the majority of the space is filled by the awnings and carts of those who bring their wares here on Market Day.
A) Geared Up: A shop selling adventurer's gear run by Leoian Catslove. This male, half-elf bard (with a lisp). He has a half dozen stray cats that he's adopted and cares for in his shop.
B) Of Powders and Poisons: This alchemy shop is run by Therdove Arborshate, a female hafling ranger. Once her wanderlust had run its course she settled down to put her natural skills to a more profitable profession.
C) Dagarkin's Aegis: Corsaadi Dagarkin is a female dwarf who inherited this armorer shop from her deceased father. She works hard to live up to his name and does fine work.
D) Salve'ation: All sorts of potions, elixirs, and salves are sold at this apothecary. Tholannan Arroway, a male human runs this shop.
E) Get the Shaft: The male elven ranger, Jamnan Moonshadow brought his Fletcher skills here to support the growing Elven and Eladrin population.
F) Stud Show: The stables are maintained by a female half-orc from the Thousand Arrows area named Irietranna Tigersoul.
G) Skin Runes: This tattoo parlor is run by a male Dwarven barbarian named Quoven Emeraldneedle. He's gruff, but his large hands are very precise and his tattoos are very detailed.
18) The Star Court: A two-story stone building that looks like a gigantic, many-spired king's crown set on the ground, the Star Court houses many of the city's bureaucracies and officials. The most important offices found here are the Halls of Judgment, Silverymoon's criminal courts; the Rolls, which holds registration records for permits, land deeds, citizenship, and taxation, floor and sewer plans of all buildings in the city, and genealogies of current citizens; and the Halls of Converse, where citizens can complain, debate civic matters, and petition officials for changes in laws, for something to be done or undone, or that they be recognized as citizens.
20) The Map House: A soaring stone keep previously owned by the High Heralds, this building once housed the Vault of the Sages, and remains a storehouse of maps, heraldry, and genealogies for the North and the Heartlands. The general public, guided by herald-in-training and loremasters, may browse the maps and records for 5 gp a day, though materials may not be removed, and copies are obtained only by application to the Master of the House. The Master, the famous sage Esklindrar, lives to acquire knowledge and has become the greatest known expert on Sword Coast human writings outside Candlekeep. He has been known to befriend adventuring groups and give them hints on where treasure may lie, in return for their reports on what they found and a copy of any writings they gain.
21) The Shining Scroll: The crumbling stone steps of this long, narrow Magic shop on Brightbuckler Street in Northbank lead up to a royal blue circular wooden door painted with many complex (and meaningless) runelike silver symbols. Inside is a stool for patrons to wait on, a small space in which they can stand or pace, and a counter with shelves of potions and scrolls. The friendly proprietress, Xara Tantlor (Female Human), sits behind the counter unless she has closed the shop to escort clients down into her large cellar, where she casts spells for fees. Her familiar Villynk, a raven, perches in odd spots in and around the room the shop and keeps a wary eye on all customers.
23) The Moonbridge: The Moonbridge rises in a gentle arc to a mid-span height of 60 feet above the River Rauvin, and is a smooth, railless span of silver force 14 feet wide and 2 feet thick. It can be taken down (receding to each bank) to permit the passage of ships or prohibit its crossing.
24) Utrumm's Music Conservatory: Located in a large, rather nondescript building in Southbank campus of the Conclave, this archive of written music and "song scrolls" also houses over forty sound-shielded practice rooms where musicians can sing and play. Many practice alone, but teaching is available for stiff fees. Utrumm is long dead, but the present faculty of Masters of Music enjoys a good reputation. Anyone can rent a practice room (not just Conclave students) can rent a practice chamber, for a fee of 1 sp per 2 hours, but must agree to allow Masters and students to listen from the balconies in every chamber. Paid admission performances are prohibited, but free recitals may be given in one of the Halls of Hearing.
27) The Lady's College: Considered by many to be the heart of the Conclave, the Lady's College trains wizards in the history of magic as well as in spellcraft. The tuition is steep, but students may stay in the college's rambling housing-halls and eat in the college's refectory. The food, and particularly the wine, are surprisingly good, and accompanied by dance, music, literary readings, or displays of entertaining illusions. Many of the Masters of Art are crusty or strange-minded, but the college teaches tolerance, cooperation, and an appreciation for differing philosophies and approaches to magic. The college accommodates just over a hundred students at a time, with an ever-lengthening waiting list to get in. Naïve hopefuls who show up at the gates are put on the list, taken in, and taught to do cooking, laundry, cleaning, and repair work around the university. If they continue to do such tasks, they'll be given room and board and allowed to peruse limited portions of the Conclave libraries on their own, until their time comes.
28) Arkhen's Invocatorium: A school of sorcery (as apposed to wizardry), this is one of the few such institutions in Faerûn. Students study under the infamously strict and sarcastic Arkhen the Icy (Male human Sorcerer 13), in a new building whose many furnishings are almost all animated constructs under the will of Master Arkhen.
30) The Vault of the Sages: This massive structure has the shape of a horseshoe five floors high, with five vast, labyrinthine dungeon levels beneath. If Candlekeep is the greatest storehouse of written lore in Faerûn, the Vault is its greatest assembly of knowledge, in the form of a staff of expert sages and its remarkable library. The Vault is maintained and guarded by priests of Deneir; they reshelf materials and fetch tomes from the library levels to examination rooms in the Forehall for a fee of 5 gp per book. Books dealing with magic are 10 gp to view, and spellbooks are not available. No personal copying of maps or manuscripts is allowed, and even carrying in writing materials is forbidden, although Vault scribes will write down a reader's brief verbal notes as part of the reading fee. Copies can be ordered at the cost of 50 gp per map or 2 gp per page of text. Maps take 2 days to copy unless very large, and texts can be copied at 10 pages per day.
The Keeper may offer to purchase valuable manuscripts and literary fragments (200 GP per century of age), or if the vendor refuses to sell, requests the chance to copy them for half the price. During the time the copying is done, the vendor is offered free room and board in luxurious guest apartments.
Most patrons to the Vault visit the open book (no reading fee) galleries on the ground floor and the floor above it. Broadsheets are posted here with news of Faerûn, and multiple copies of reference works such as Delblood's Atlas of Faerûn, Revendro's Roll of the Passing Years, and Gaurdront's Guide to Monstrous Beasts are available. The 3-5 floors contain workrooms for the Vault's scribes, illuminators, and bookbinders; study rooms for topics of learning (such as magic, history, alchemy, zoology, and geography); and offices where sages may be consulted. Sages are seen by appointment only, and for stiff fees; 50gp per hour of general consulting, which includes learned guidance as to what books or experts to consult and simple definitions and identifications, plus 500 gp or more for the furnishing of each specific, detailed answer to a difficult question. The current keeper of the Vault is the impressive and mellifluous Haliver Muorin (male human Wizard 9) and is assisted at all times by six priests of Oghma and two vault guards (human fighter 7),
31) Mielikki's Glade: An open-air glade dedicated to Mielikki, this place consists of a ring of towering shadowtops surrounding ferns and berry bushes that give way to a central floor of lush moss. There is a rumor that the glade hides a portal linked to the house of Ladyservant Tathshandra Tyrar (female human Cleric 10), whose eyes still sparkle despite her 70 summers. She leads services in the glade day and night. The glade is known as a spot of serenity where divine presence is often felt.
32) Silverguard Isle: Headquarters of the Knights of Silver and the Spellgard.
33) Optym's Blade: A superb Weapons shop located in Northbank on Many Cats Lane, Optym's carries many masterwork weapons, especially axes of all sorts. A helmed horror under the proprietor's command guards the shop after hour, and the proprietor himself suffices to keep order during the days. Helosturr Optym (male human fighter 4) is an expert knife-thrower and stocks a huge selection of throwing knives and daggers. He's calm in the face of threats and danger, keeping a very even temper. Many targets hang in all corners of the shop, for Optym to practice on.